Konzerte und Projekte (Auswahl, unregelmäßig aktualisiert)
Die Sprachen sind dem Event angepasst
März / March

Konstruktion#4:
Dadadystopische Gebrauchsmusik aus Gummi, Metall, Saiten, Objekten, Stimme und Live-Elektronik |
Dadadystopian utility music made of rubber, metal, strings, objects, voice and live electronics
In this new new Solo, particles of sound and noise are transformed into neosystopian organisms, sonic biotopes and hybrid reminding sonic landscapes.
Konstruktion#4 is a electro-acoustic live assemblage of metal pieces, strings, objects, microphones, tablets and sensors. The choice of material and programming is different in every composition.
(Mit freundlicher Unterstützung des Musikfonds / Neustart Kultur)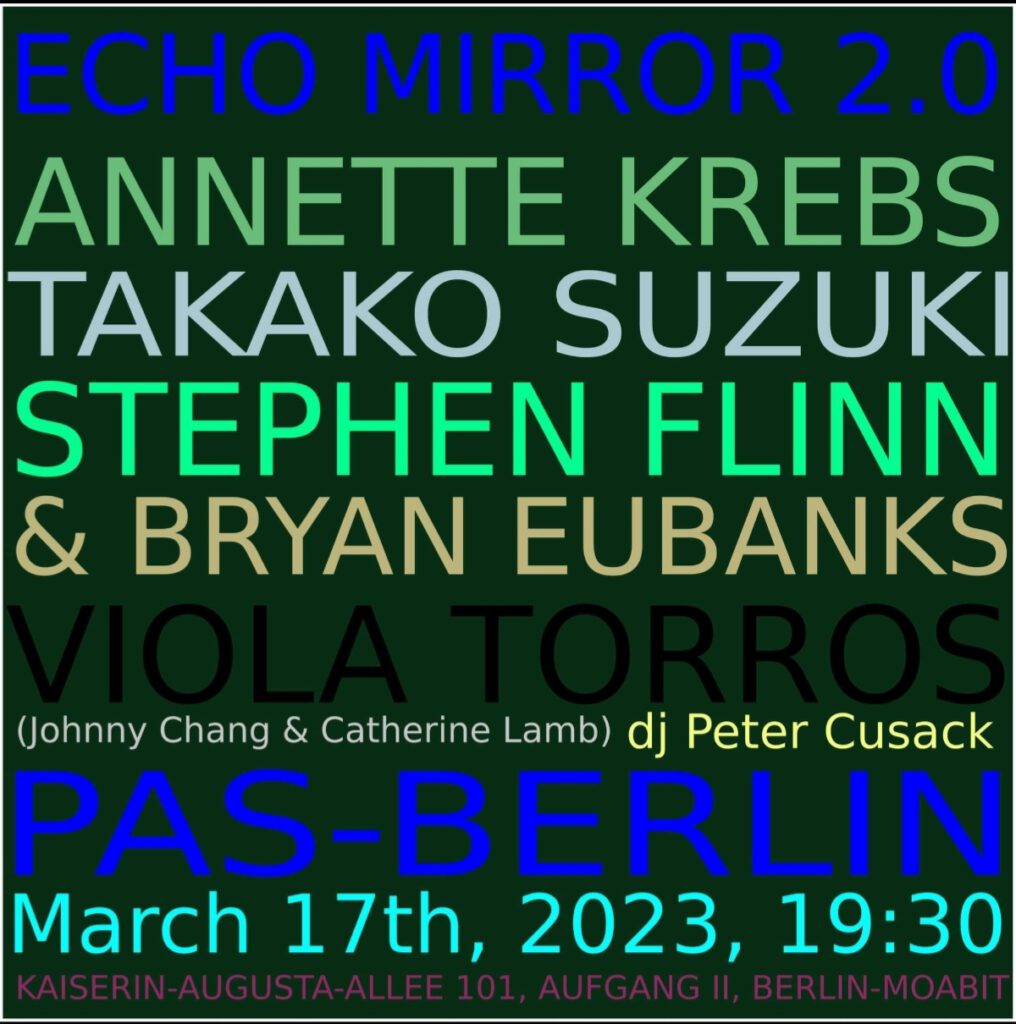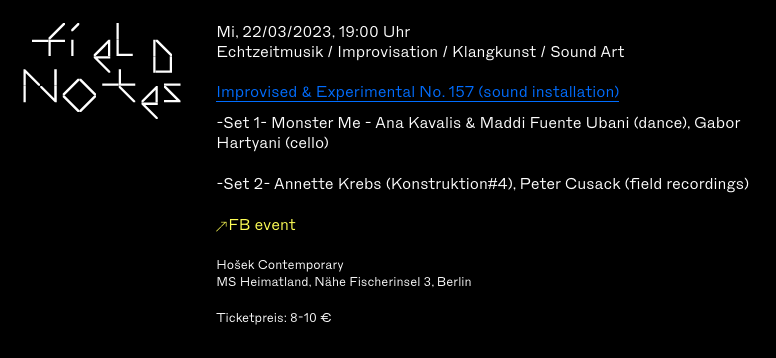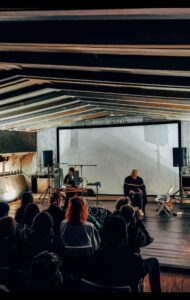 Forschung: Musik als Geräusch – Musik im Geräusch – Musik versus Geräusch?
(Wie) ist es möglich, Musik so zu spielen, dass sie so natürlich, unprätentiös und quasi "unmusikalisch" klingt, dass sie sich in Außengeräusche und Fieldrecordings einfügt? Dass sie das Außen nicht stört, sondern  zum Teil davon wird, dass instrumental gespielte Klänge eine unprätentiöse Koexistenz mit Umgebungs- und Naturgeräuschen eingehen?
Duos und Konzerte mit Peter Cusack und Andrea Ermke
Duo mit Andrea Ermke (Fieldrecordings, Minidiscplayer, Mischpult) und Konstruktion#4: sonic landscapes
Konzert
(Der Sound enthält leise Frequenzen. Bitte hören Sie ihn mit guten Lautsprechern oder Kopfhörern)
22.02. 22 CoLaboRadio /online
Gast bei: Exploration in sound by JD Zazie, 20h
https://fr-bb.org/programm/sendung/53461.html#JD%20Zazie-exploration%20in%20sound
23.03., Berlin
Au Topsi Pohl (tba)
Duo mit › Luca Venitucci
26.03., Berlin(Konzert wg Covid verschoben auf März)
Morphine Raum
› Lottie Sebes (Katalogpräsentation und Konzertperformance)
Annette Krebs (Konstruktion#4, Solo)
mit freundlicher Unterstützung der Berliner Senatsverwaltung für Kultur und Europa und dem Musikfonds
07.05., 20:00
FLUS-S [Fluchtmodus] – Das Vorspiel
A GLASS event, curated by Daniela Lunelli aka Munsha in collaboration with ausland*.
https://ausland-berlin.de/flus-s-fluchtmodus-das-vorspiel
25.05., 20:30h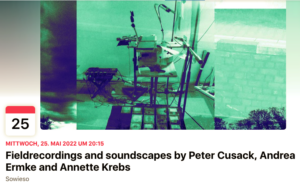 Mit freundlicher Unterstützung des Musikfonds /Neustart Kultur 2022
19.06., Berlin
Petersburg Art Space
› Echo Mirror 2.0
Peter Cusack (field recordings) & Annette Krebs(Konstruktion#4)
24.08., Berlin, 20h
› Werkhalle Wiesenburg
› Facebook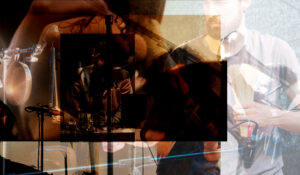 David Dove, Gudinni Cortina, Biliana Voutchkova, Emilio Gordoa, Annette Krebs
15.10, Berlin, 20:30h, Ausland
› Duo mit Emilio Gordoa
2021
12.10., Berlin
Morphine Raum
Instruments
Makers Meet Musicians To Explore The Potentials of D.I.Y
Konstruktion#4, Mariana Carvalhound Key Clef:
https://www.morphinerecords.com/instruments/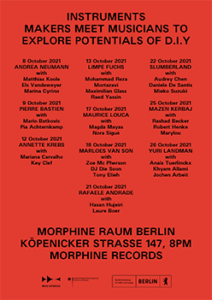 23.09. 21
18:00 – Villa FOR FOREST, Klagenfurt
Konzert für 6 Lautsprecher (tape version)
› http://www.newadits.com/
› https://annettekrebs.eu/konzertfl/d.html
24.-29.08., Berlin
› Dara String Festival
Konstruktion#4: Solo für 2 Lautsprecher,
Duo mit Biliana Voutchkova
u.v.a.
03-07. Berlin
› Ready Making
Hosek Contemporary
Konstruktion#4: Konzert für Objekte, Saiten, Stimme, Live-Elektronik und fünf Lautsprecher
Konzert und CD- Release
New works and researches during the lockdown:
New compositions, research and collaborations within the system and instrument
Konstruktion#4
Gefördert durch die Berliner Senatsverwaltung für Kultur und Europa
Emilio Gordoa und Annette Krebs @ Ausland, Berlin 2021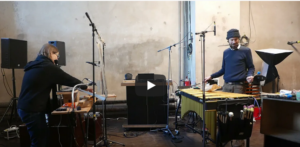 Development of new compositions for sonic assemblages by Heather Frasch and Annette Krebs
2020
Januar- Februar 2020
Australien- Neuseeland- Tournee mit Konstruktion#4
06.01. Perth
Tone List – St Paul's Church, Menora
Solo Concert
Quintett
› http://www.tonelist.com.au/events
› https://www.facebook.com/events/st-pauls-catholic-church/rookwood-annette-krebs-jim-denley-dale-gorfinkel/555286248575528/
07.-14.01.
Dunsborough
Sounding Together Workshop
with Jim Denley & Annette Krebs
› https://www.tonelist.com.au/soundingtogether
14.01. Perth
St Paul's Church, Menora
Sounding Together Showing Concert
› https://www.tonelist.com.au/events
18.01. Launceston
› Mona Forma Festival
QVMAG Inveresk Community Gallery
2 Invermay Road,
7248 Launceston
3 Solo sets, Konstruktion#4
3:15pm / 5:00pm / 6:45pm
› https://mofo.net.au/program/annette-krebs
›https://www.goethe.de/ins/au/de/ver.cfm?fuseaction=events.detail&event_id=21713866
19.01. Hobart, Tasmania
› Mona Forma Festival
Mona – Museum of Old and New Art
1 pm
2 Solo sets, Konstruktion#4
19.01.RTRFM92.1 (Perth), 9pm
"Difficult Listening "
rtrfm.com.au/shows/difficultlistening/
Interview with Eduardo Cossio
Konstruktion#1 | Sah
Stream: https://rtrfm.com.au/story/annette-krebs-imagined-sounds/
20.01. Sydney
People's Republic of Australasia
2050 Sydney – Camperdown
Solo, Konstruktion#4
›https://www.goethe.de/ins/au/de/ver.cfm?fuseaction=events.detail&event_id=21713835
21.01. Sydney
Private concert for one listener (not public)
› http://www.safeinsound.com.au/
24.01. Sydney
Tempe Jets
Holbeach AveTempe, NSW
1. Cor Fuhler Mel Herbert and Clare Cooper
2. Annette Krebs (Germany)and Laura Altman (Sydney)
3. Duo Nesbitt / Johnson
Roxanne Nesbitt, symbiotic percussion (Canada)
Niki Johnson, percussion
› https://www.emus.space/calendar/2020/1/24/nights-at-tempe-summer-edition
28.01. Melbourne
Make It Up Club
MIUC 280120 22nd Birthday Festival! Week Four
Duo mit Robbie Avenaim
› http://exp-melb.blogspot.com/2020/01/miuc-280120-22nd-birthday-festival-week.html
31.01. Canberra
SoundOut Festival
Workshop (event location and time have been changed!)
Drill Hall Gallery
10 am -12:00
https://www.facebook.com/events/2419491458155096/?active_tab=abou
01.02. Canberra
SoundOut Festival
3pm: Konstruktion#4, Solo
› https://soundout2020.blogspot.com/2019/11/blog-post.html› https://www.facebook.com/events/581840632637570/
02.02. Canberra
SoundOut Festival
3 pm: Trio
Annette Krebs: Konstruktion #4 – Germany
Nick Ashwood: guitar / objects – Tasmania
Rhys Butler: alto saxophone – Canberra
7:15 pm: Quartett
Alexandra Spence: objects/electronics – Sydney
Annette Krebs: Konstruktion #4 – Germany
Richard Johnson: wind instruments – Canberra
Dylan van der Schyff: drums – Canada
› https://soundout2020.blogspot.com/2019/11/blog-post.html› https://www.facebook.com/events/581840632637570/
07.02. Auckland
Audio Foundation
AF & Auckland Live present: Annette Krebs & the True Bliss Experience at Aotea Square
› http://www.audiofoundation.org.nz/programmes/live-events/annette-krebs-the-true-bliss-experience
07.02. Auckland
AF presents: Annette Krebs (Germany), Ivan Mrši?, Jess Quaid / Joel Vinsen- Friday 7 February
› http://www.audiofoundation.org.nz/programmes/live-events/annette-krebs-ivan-mrsic
08.02. Auckland
AF presents: Annette Krebs (Germany) performs with Antonia Barnett-McIntosh, Clovis McEvoy – Saturday 8 February
› http://www.audiofoundation.org.nz/programmes/live-events/annette-krebs-antonia-barnett-mcintosh-clovis-mcevoy
13.02. Auckland
Workshop / artist talk:
http://www.audiofoundation.org.nz/programmes/live-events/artist-talk-annette-krebs
15.02.
Wellington
Pyramid Club
https://www.goethe.de/ins/nz/en/ver.cfm?fuseaction=events.detail&event_id=21762195
16.02.
Featherston
The Miracle Room
https://www.goethe.de/ins/nz/en/ver.cfm?fuseaction=events.detail&event_id=21762197
Die Tournee wird durch die freundliche Unterstützung des Goethe-Instituts ermöglicht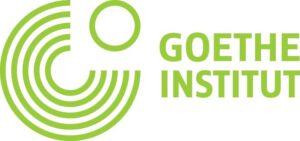 04.2020, online
AMPLIFY2020 quarantine festival
Konstruktion#4: Corona Variations
(April 2020)
› https://amplify2020.bandcamp.com/album/konstruktion-4-corona-variations?fbclid=IwAR2IWPcTQLrF-Wc-6nQFuWHAhc5eIUNK4MO1gqpEQfUdFutw7dUcueICLMU

Donations are welcome here:
› paypal.me/mikroklang  
04.2020, 11 pm-1 am (CEST) ,online
"The Boring Music Show" by Joseph Kudirka
› https://www.keithfem.com/

05.2020, Frameworkradio.net
Edition#712: 2020.05.03
by Patrick, May 4, 2020
› http://www.frameworkradio.net/2020/05/712-2020-05-03/
12.06.2020
Window-concert, Berlin
PeterCusack: fild recordings
Annette Krebs: Konstruktion#4
› https://www.facebook.com/events/3071135169640637/
27.08. Berlin
@ Zwingli Kirche, 19:45h
› Audiovisionen: Annette Krebs + Feedbackorchester
Konstruktion#4
Solo für Metallstücke, Saiten, Objekte, Stimme und live-Elektronik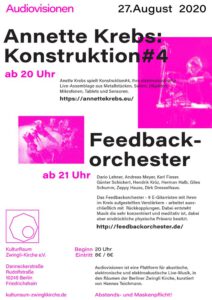 05.09. Berlin
@ Schwartzsche Villa, 17:15h
25-jähriges Jubiläum der Schwartzschen Villa
Konstruktion#4
Solo für Metallstücke, Saiten, Objekte, Stimme und live-Elektronik
› Programm
Neue Veröffentlichung auf Bandcamp
› pointe sèche
Duo CD mit Jean-Luc Guionnet
inexhaustible editions
18.09., Berlin
Akut Macht Neu
Duo mit Emilio Gordoa & Konstruktion#4 / WSR
19:30, Platzreservierung erforderlich
› https://www.facebook.com/events/694774828100051/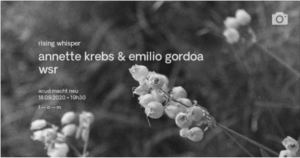 21.10., Berlin
Studio Rainer Spehl, Brunnenstr. 152
› Duos2020 Krebs/Voutchkova
24.11., Brno (cancelled) – all concerts and workshops online
Festival Setkávání Nové Hudby Plus / Janáček Academy of Music and Performing Arts
http://www.setkavaninovehudby.jamu.cz/
Live-Stream: https://www.youtube.com/watch?v=03tgRS5ahTA
7:55/ 8 pm
Konstruktion#4: Five Movements
Live-Stream:
https://www.youtube.com/watch?v=rB7xdJ75LJo
30.11., Live-Stream
Festival Setkávání Nové Hudby Plus / Janáček Academy of Music
Workshop for students of the Music Faculty of the Janacek Academy