Calendar until 2020- multilingual page (de/en/fr)
2019
18.01.2019, Berlin
100 Jahre Bauhaus- Das Eröffnungsfestival
› Reframes, Unikate 2
Akademie der Künste, Berlin
Konstruktion#3: Third movements
für acht live bespielte Lautsprecher
im Rahmen des Eröffnungsfestivals

27.01., Tonhalle Hannover
› Konstruktion#4 & Tonhallenorchester

21.03., Berlin
› Series :: , KM28, Neukölln
Duokonzert: Konstruktion#4 & Tomomi Adachi 
 
01.05. Berlin, Acker Stadt Palast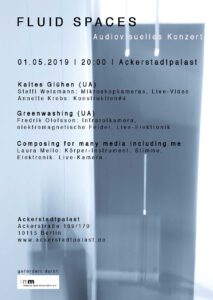 Fluid Spaces

Annette Krebs und Steffi Weismann: Kaltes Glühen (UA)
ein audiovisueller Dialog für Sound-Assemblagen und Mikroskopkameras
Frederik Olofsson: Greenwashing (UA)
audiovisuelle Komposition für Infrarotkamera, elektromagnetische Felder und Live-
Elektronik
Laura Mello: Composing for many media including me (Version 2019)
intermediale Soloperformance für Körper-Instrument, Stimme, Elektronik und Live-Kamera
Konzept/ Produktionsleitung: Steffi Weismann & Annette Krebs
Gefördert durch


11.05. Berlin,
Biegungen im Ausland
Objects in Space
Annette Krebs: "Konstruktion#3 – third movements"
Für 8 live bespielte Lautsprecher
Heather Frasch: neue Komposition für das Setup digital boxes
"Digital boxes are a versatile digital instrument built from cigar boxes. ( https://www.heatherfrasch.net/digitalboxes )
Lucio Capece: "On incomplete givenness"
For One flying speaker hanging from a balloon, moving in circles pushed by a propeller, sine tones, analog filter and stereo PA
Konzeption: Annette Krebs
Mit freundlicher Unterstützung der Biegungen im Ausland und INM Berlin
Studioarbeiten
07.2019
Annette Krebs & Steffi Weismann: KALTES GLÜHEN
für mikroskopierte Bild- und Soundobjekte
Duo-Trailer 2019
(Sound optimiert für gute Lautsprecher oder Kopfhörer)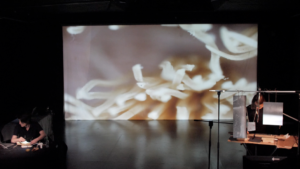 07-11.2019
Solo CD (erscheint 2020)
27./28.09.
› Quadrophonia #4.0
Internationales Festival für Elektro­akustische Kunst
Neues Museum Nürnberg
Konstruktion#3 – Fassung für 4 Lautsprecher
20.10., Hannover, tba
Tonhallenorchester & Steffi Weismann (live video)
& Annette Krebs (Konstruktion#4)
17.11., Krakow
Audio Art Festival
Konstruktion#3: Third movements

2018

Berlin, 22.11.
Meeting, Experiment, Improvisation
Lisa Stertz (Performance) & Annette Krebs (Konstruktion#4)
LLLssoirée – a performative eve curated by lisa stertz
› Bar Barbiche

Berlin, 13.-19.08.
� In Flux Festival
Konstruktion#4 – Soloversion
San Sebastián, 31.08.
› Dantz Festival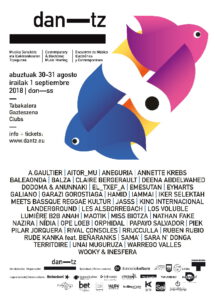 Berlin, 09.07.
Labor Sonor Series 2018
› Konstruktion#2: Tro
Ljubljana/ Bistrica ob Sotli, 29.06.
KUD Mre�a
Duo: Jean-Luc Guilonet(Orgel) & Annette Krebs(Konstruktion#4)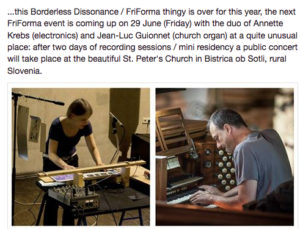 Berlin, 13.5.
Dock11
› Pilze und Fische- Lisa Stertz und Yuko Kaseki | Annette Krebs: Konstruktion#4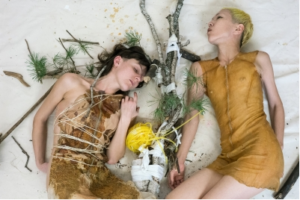 BR-KLASSIK, 03.04
22:05 bis 23:00 Uhr
Horizonte – die Sendereihe für Neue Musik auf BR-KLASSIK
Unikate
Über unerhörte Instrumente und ihre Erbauer
Von Horst Konietzny
(Ausschnitte über Konstruktion#3)
› https://www.br-klassik.de/programm/radio/ausstrahlung-1348074.html
2017
März
Rennes (FR)
15.-18.3.Workshop: Developing music with self-made and deconstructed instruments
16.3. › Conférence
18.3. Solokonzert: › Konstruktion#2: Karkk-Tro (Übergang)
Conservatoire De Rennes/ Ecole Européenne Supérieure d'Art de Bretagne
April
Berlin
› StudioAcht Series: Series : ~Fundraiser~
Sah
Solo für Objekte, Stimmen und Live-Elektronik zum Thema Inspirationen visueller Künstler/innen
Berlin
30.04. 20h
Triokonzert mit Heather Frasch und Axel Dörner zur Finissage der Ausstellung
› Heather Frasch: Sense Boxes
Juni
Mexico City
06.07. eseeme
› Krebs-Cortina-Hernández
mit freundlicher Unterstützung des Goethe-Instituts Mexiko
07. 07. Goethe-Institut Mexiko-Stadt
› TonalÁtonal 4/2017: Konstruktion/spheres
Konstruktion#2: Tro (premiere) ; Sah
08.07. House Concert:
› Atardecer en Jordania
mit freundlicher Unterstützung des Goethe-Instituts Mexiko
Juli
reboot.fm free artist radio
20.30, Lautstrom, Feature von Anna Bromley
Konstruktion#2: Tro
› Live stream: http://reboot.fm/
› Lautstrom
August
Stockholm
31.08. › Fylklingen
Konstruktion#2: Tro ; Sah
mit freundlicher Unterstützung des EMS und des Goethe-Instituts Stockholm
September
Stockholm
› EMS Elektronmusik Studion
› 01.-27.08. Residency: Konstruktion#3
mit freundlicher Unterstützung des EMS und des Goethe-Instituts Stockholm
Berlin
Akademie der Künste
› Kontakte '17 – Internationales Festival für elektronische Musik und Klangkunst
Konstruktion#3 – first movements
für Metallstücke, Objekte, Live Elektronik und 8 Lautsprecher
› http://www.heroines-of-sound.com/3009-akademiederkuenste/
Oktober
Videodokumentation: Sah
https://www.youtube.com/watch?v=mdIzHcb8NSA
November
Berlin
Biegungen im Ausland
Konstruktion#3 – second movements
für Metallstücke, Objekte, Live Elektronik und 8 Lautsprecher:
› https://ausland-berlin.de/krebs-ara-rombolaandorra-bertucci
Berlin
Schwarzsche Villa
› Fides Becker, Vernissage: Vermächtnisse
Sah
27.11.
Deutschlandfunk Kultur
› 0:05, Kurzstrecke 68
› Sah (Live-Performance, Kurzversion, Galerie M Beck 2016)
/////////////////////////
The video and documentation of my last solo concert with Konstruktion#2: Karkk during the festival Heroines of Sound
in Berlin is finished. Thanks a lot to Susanne Elgeti for her video work, and to the whole Heroines of Sound-team!
› Video
› Dokumentation

2016
Konstruktion#2
Mit speziell konstruierten Setups aus Soundobjekten, Elektronik(Max/MSP) und Mikrofonen werden Solo- und Tapestücke für verschiedene Lautsprecheranordnungen entwickelt
Versuchsaufbauten, Werkstattfotos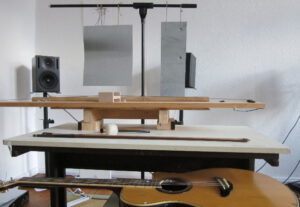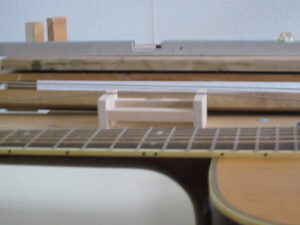 Konstruktion#2: Karkk@Bimhuis, Amsterdam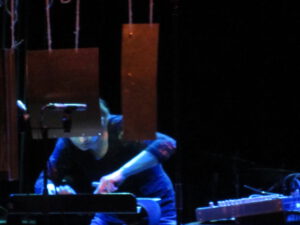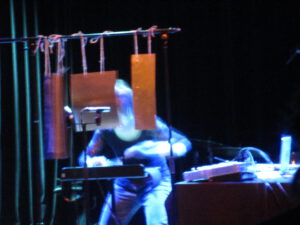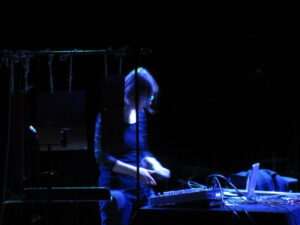 ©Anne Wellmer

April
30.04., Amsterdam
› Doek Festival 2016
Solokonzert
Konstruktion#2: Karkk
› https://www.youtube.com/watch?v=kzOBN2Q7mH0
Mai
Berlin
› Akademie der Künste, Studio für Elektroakustische Musik
Residency
Brussels
› Netwerk/ center for contemporary art
Open Hub Residency
28.05, Berlin
Studio 8
Grüntalerstraße 8
Karkk: Solo for metals, strings and electronics
August
Berlin
› projectspacefestival
› laborneunzehn
› Duo mit Axel Doerner
September
14.09., Berlin
› Kontraklang
Konstruktion#2: Karkk
22.09., Berlin
Perceptive Turns 2016
Spektrum
Tape-Komposition zur Wiedergabe mit › OmniWave Lautsprechern
Kurator: Lucio Capece
mit freundlicher Unterstützung der INM
Oktober
////////////////////////////////////
Solotournee: Südamerika, Mexiko
Columbia, Bogotá
06.10. Universidad de Los Andes
» Workshop
07.10. Universidad de Los Andes
» Solo concert
Konstruktion#2: Karkk
Solo for three metal sheets, one string, voices and live-electronics (2016)
08.10. matik-matik
Collaborative concert with musicians and composers from Bogotá
Uruguai, Montevideo
11.-16.10.: Festival Internacional de Arte Sonoro Monteaudio16 – medición
» http://www.formaysonido.org/ma16-programa.html
» https://www.goethe.de/ins/uy/de/ver.cfm?fuseaction=events.detail&event_id=20843202
13.10. talk, university
14.10 Solo concert:
Konstruktion#2: Karkk
Solo for three metal sheets, one string, voices and live-electronics (2016)
Sah
for voices, noises, objects and live electronics (2016)
15.10 Workshop
Mexico
18.10. Mexico City
El Nicho Sesiones 0ctubre
Konstruktion#2: Karkk
Solo for three metal sheets, one string, voices and live-electronics (2016)
» http://elnicho.org/ciclo/2016/el-nicho-sesiones-octubre
» https://www.facebook.com/69358988571/photos/pcb.10155315920848572/10155315920713572/?type=3&theater
20.10. Mexico City
» La Habitación del ruido, Solokonzert:
Auditorio Divino Narciso, Universidad De Claustro De Sor Juana
Konstruktion#2: Karkk
Solo for three metal sheets, one string, voices and live-electronics (2016)
Sah
for voices, noises, objects and live electronics (2016)
21.10. Morelia
Collaborative concert with musicians and composers participating in the Umbral Festival:
» https://www.facebook.com/events/1801097183507245/
Mexico City
Umbral Festival, 3rd Anniversario
» http://umbral-mx.tumblr.com/image/151854244686
28.10.
Christian Mirande (EU)
Santiago Astaburuaga (CL)
David Vélez (COL)
Annette Krebs (ALE)
Walter Schmidt (MX)
Konstruktion#2: Karkk
Solo for three metal sheets, one string, voices and live-electronics (2016)
Lugar: Actividades Mercurio
Dirección : Av. Álvaro Obregón 240 col. Roma
Horario: 8 pm
Costo: 50 pesos
29.10. Oaxaca
Réplica : Birgit Ulher (ALE)/ Felipe Araya (CL)
Annette Krebs (ALE)
Christian Mirande (EU)
Concepción Huerta(MX)/Casey Anderson(EUA)
Arturo Hernández Alcázar (MX)
David Vélez (COL)
Konstruktion#2: Karkk
Solo for three metal sheets, one string, voices and live-electronics (2016)
Lugar: Museo de Arte Contemporáneo de Oaxaca
Dirección : Macedonio Alcalá 202 col. Centro
Horario: 8 pm
Costo: 50 pesos
Mit freundlicher Unterstützung des Auswärtigen Amtes und des Goethe-Instituts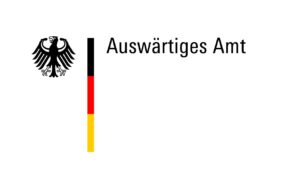 /////////////////////////
November
04.11., Homburg-Schwarzenacker
› Galerie M Beck
Sah
for voices, noises, objects and live electronics (2016)
Dezember
10.12., Berlin
› HEROINES OF SOUND
Konstruktion#2: Karkk
Solo für drei Metallstücke, eine Saite, Stimmen und Live-Elektronik (2016)
Vergangene Konzerte und Projekte, Auswahl
30.08.15, Berlin
KYOKA translating Konstruktion#1
translating music festival
14.08.15, Berlin
Relations in Time 1990 – 2015
17.07.15, Berlin
Trio concert with Sven-Åke Johannson and Liz Albee
Geoff Stern Art Space
30.-31.5.15, Porto
Serralves em Festa 2015
Konstruktion#1
Solo for amplified metals, strings, wood, various objects, microphones, sensors, midi-, and osc- controllers
irgendwo ist friederike
for two performers and four loudspeakers
unfollow. this is me.
for two performers, objects, tapes and loudspeakers
23.4.15, Berlin
Duokonzert mit Shelley Hirsch:
Konstruktion#1, Stimme
http://www.geoffsternartspace.com/
17.4.15, Berlin
» Konstruktion#1
Solo für verstärkte Metalle, Saiten, Holz, verschiedene Objekte, Mikrofone, Sensoren, Midi- und OSC- Controller
Instituto Cervantes
http://www.fasefest.org
19.3. 15, Belfast
Sonic Arts Research Centre
Solokonzert
18.3. 15, Belfast
Sonic Arts Research Centre
Seminar
3.3. 15, Berlin
Ausland
Osvaldo Budón, Tomomi Adachi, Annette Krebs:
Micro sketches for the next time around
9.2. 15, Berlin
Labor Sonor, Kule
Duo Konzert mit Tomomi Adachi
13.11. 14, Oslo
Notam– Norwegian Center for Technology in Music and the Arts, Lydmyren
Solo für Metallobjekte, Saiten, Stimmen und Elektronik/MaxMSP
12.11. 14, Oslo
Notam– Norwegian Center for Technology in Music and the Arts
Workshop mit StudentInnen der Norwegian Academy of Music
Oktober
29.10.,20h
DOM Cultural Center, Moskow:
mikroton live 5
Annette Krebs (new solo project)
Annette Krebs / Kurt Liedwart / Ilia Belorukov (premiere)
Alexei Borisov / Metro 3 (premiere)
31.10.,20h
GEZ21, Saint-Petersburg
Annette Krebs (new solo project)
Annette Krebs / Kurt Liedwart / Ilia Belorukov (premiere)
Andrey Popovskiy ("Rotonda" album presentation)
20.10., T Berlin
des journées entières dans les arbres (#3)
Tomomi Adachi // voice, self-made instruments, electronics
Annette Krebs // guitar, objects, electronics
Duo performance by a material composer and a formal improviser.
Counterpointing mixtures of compositional ideas and improvisational structure, acoustic sound sources and electronic processing.
11.10., Berlin
Solo für Metallobjekte, Saiten, Stimmen und Elektronik/MaxMSP
Autumn mini festival – quiet cue #144/145
September
12.9. /13.9., Berlin, Elisabethkirche, 19h
Festival Mikromusik
Interpretation: Tabulaturas especiales von Osvaldo Budón
10.09., Berlin, Ausland, 21h
Solokonzert
Musik für Saiten, Metall, Stimme, Objekte und MaxMSP.
http://www.ausland-berlin.de/ausland-presents-jl-guionnet-berlinausland
https://www.facebook.com/events/273516972844640/?ref_dashboard_filter=calendar
August
Berlin
17.8., Grüntaler Straße 8, 13357 Berlin
Series #27
rush!
Solo für Westerngitarre, Objekte, Elektronik und Stimmen
Straßenmusik-live-Version
&
´KKP3´
Sébastien Branche (FR) – saxophones
Ludger Hennig – electronics
Robert Rehnig – electronics
bar at 19:00, concert at 20:00
———————————————————-
Interview und Composer Profile mit David Leone für den Blog
Musica Kaleidoskopea – a kaleidoscopic view of music
2014
Release von rush! auf dem Label another timbre
Links: rush!
http://www.anothertimbre.com/kestentraylekrebs.html
Entwicklung eines elektro-akustischen Saiteninstrumentes
LEM – Festival 2013 , Barcelona
Konzert im Duo mit Wenceslau Guarro
https://lemfestival.wordpress.com/lem-2013-english/
München
27.09.13, 11 Uhr im EINSTEIN Gewölbe 4
Annegret Bleisteiner / Annette Krebs
? RAUSCH
Audiovisuelle Installation
Vernissage Sonntag, 11 Uhr, mit einer klanglich erweiterten Live-Version der Vertonung durch Annette Krebs. Anschließend Gespräch mit den Künstlerinnen zum Thema Bild und Ton – Die Integration der Sinne
Erste öffentliche Präsentation von Bleisteiners neuester Videoarbeit, die sich kritisch mit dem Thema (Bier-) Rausch und dem Münchner Oktoberfestattentat von 1980 auseinandersetzt. Die Berliner Musikerin und Komponistin Annette Krebs hat zu dieser visuellen Vorgabe eine komplexe Vertonung geschaffen.
Berlin
28.06.13
Guitar-Duo with Kazuhira Uchihashi
AUXXX @ LichtbliKino
21:30
Paris
08.06.13
Umlaut Serie #28
Duo with Jean-Luc Guionnet
@ Atelier Polonceau Thomas-Roudeix
www.umlautrecords.com
Interview avec Pascal Laurent
Radio Libertaire
"Les Oreilles Libres", 28.6.2013
Zürich
13.06.13, Helmhaus
Interpretation einer Partitur von Rommi Rüegger
im Rahmen der Record Resease der im Juni erscheinenden 7inch Edition «5'05"–3 Renotations of 1 Act of cleaning a Piano» von der Künstlerin Franziska Koch, edition fink, Verlag für zeitgenössische Kunst, Zürich
www.editionfink.ch
Hamburg
18.05.13
negociate!
für Westerngitarre, Lautsprecher und Stimme
Konzertskulptur
blurred edges 2013 – Festival für aktuelle Musik Hamburg
Glasgow
30.03.-07.04.13
Counterflows Music Festival
Residency and presentations
Collaborative Residency at CCA Creative Lab in collaboration with Glasgow based artist Janie Nicolls.
Co-producing: Suzy Glass (Triggerstuff), Goethe Institute Glasgow
Berlin
09.03.13 Konzert- Performance
Telefon (Steffi Weismann& Annette Krebs):
Irgendwo ist Friederike (A.Krebs)
Unfollow. This is me. (S.Weismann)
Biegungen im Ausland

Berlin
02.03.13 Konzert
DuoKonzert mit Tomomi Adachi
Quiet Cue – intermedia and cooperation
Berlin
18.02.12 Konzert
The Sound Of The Second Hand Clapping #1
Labor Sonor, Kule
Dez. 2012
Aufsatz für die schwedische Zeitschrift für Neue Musik Nutida Musik als Reaktion auf den Vortrag "Hiermit trete ich aus der Neuen Musik aus" von Michael Rebhahn im Rahmen der Darmstädter Ferienkurse 2012.
Berlin
23.11.12 Konzert/ Installation
blikk
Solo für für präparierte Gitarre, Elektronik, Objekte und Fieldrecordings
galerie lorch und seidel contemporary

Wien
09.11.12 Konzert
Konzert für 6 live bespielte Lautsprecher
Alte Schmiede
Stromschiene
Berlin
03.11.12 Konzert
Konzert für 6 live bespielte Lautsprecher
Klangwerkstatt 2012 Berlin – Festival für Neue Musik
Kunstquartier Bethanien
London
02.9.12 Concert
guest of the
London Improvisers Orchestra
Cafe Oto
Leeds
30.8.12 Concert
David Dove & Annette Krebs
further sets:
After the rain
Rodrigo Constanzo & Seth Cooke
Lee Patterson
Fox & Newt
London
28.8.12 Concert
David Dove & Annette Krebs
double concert with:
John Dikeman, Dominic Lash, Steve Noble
Cafe Oto

Berlin
24.8.12 Konzert
David Dove & Annette Krebs
und:
Günter Heinz & Fred van Hove
Exploratorium
Kleylehof bei Nickelsdorf /AT
18.8.12 Konzert-Performance
Telefon
Annette Krebs & Steffi Weismann
REHEAT Festival
Berlin
29.7.12 Konzert/ Installation
Annette Krebs (Lautsprecher) & Kazue Taguchi (Lichtinstallation)
sowie: Hanna Hartmann, Els Vandeweyer
BeiRoy – Ohrengala#11
Echtzeitmusik Berlin Compilation
mit in between und
Phosphor P13
Mikroton Recording & Publishing, Moskau
Berlin
24.5.12 Konzert
Doug Falk- Trompete/ Kontrabass
Frank Gratkowski- Altsaxophon, Klarinette, Bassklarinette
Valerie Kuehne- Cello
Klaus Kuervers- Kontrabass
Annette Krebs- E-Gitarre, Mischpult, Objekte
Berlin
19.5.12 , Präsentation
»Folgen Sie mir pausenlos«- Ein Speakview mit automatischen Sprechern
Von Antje Vowinckel
Mit: Dave Ball, Clarisse Cossais, Axel Dörner, Fernanda Farah,
Shelley Hirsch, Sven Ake Johansson, Annette Krebs, Chico Mello, Antje Vowinckel
Produktion: DRadio Kultur 2012
Quiet Cue #086
VA – Fukushima!
Compilation
Presqu'île Records, Le Mans, Frankreich
Chris Abrahams & Annette Krebs
Fieldrecording
#occupy 'in a large open space' – James Tenney action in Berlin in front of Reichstag, 12.11.2011
Musiker/innen und Gäste :
Andrea Neumann, Chris Heenan, Sabine Erklenz, Anja Müller, Koen Nutters, Morton Jay, Mike Majkowski
Thread
Trio CD mit Anthea Caddy und Magda Mayas,
Another Timbre, UK
Ausgewählt für ein Kompositionsstipendium in der Denkmalschmiede Höfgen,
die jedoch auf Grund kurzfristiger Streichungen zugesagter Fördermittel des
Kulturraumes Leipziger Raum plötzlich schließen musste.
Link: Petition für den Erhalt der Denkmalschmiede
Berlin
4.1. Konzert
The New Silence: O Tannenbaum Episode 1
Solo concert- performance
Berlin-Neukölln
2011
December
8.12. Concert für 6 loudspeakers, FRIM- Fylklingen, Stockholm
November
– sound of the week:
http://www.soundsofeurope.eu/city/berlin/
Fieldrecording:
#occupy 'in a large open space' – James Tenney action in Berlin in front of Reichstag, 12.11.2011
5.11.
contribution to the conference MUSICA NOVA VII – K sou?asným trend?m soudobé kompozice
Janá?ek Academy of Music and Performing Arts, Brno, CZ
September/ Oktober:
– 21.09. Chicago, School of the Art Institute SAIC
lecture
5.15pm
– 23.09., Chicago, Enemy
Duo with Eric Leonardson,
Duo with Julia Miller,
and Aaron Zarzutzki / Brent Gutzeit Duo
Brian Labycz / Daniel Fandino / Jim Baker Trio
http://www.enemysound.com/
– 25.09., Boston, Non_Event in the Goethe Institute
Concert in duo with Ernst Carel
join the duo concert of Thomas Lehn and John Butcher
http://www.goethe.de/ins/us/bos/ver/en7477507v.htm
– 29.09., Austin
house-concert in Trio with Chris Cogburn and Jonathon Doyle
– 30.09. San Antonio
Concert in trio with Chris Cogburn and David Dove
+
Heloise Gold :: solo dance — performing her work The Sound Of Pape
in
:: Ten Pounds To The Sound + Missi Smith Artist Gallery
– 2.10., Houston
Workshop with NS Youth Ensemeble within the frame of namless sound
– 3.10., Houston
Quartett with:
Damon Smith: bass
Chris Cogburn: percussion
Sandy Ewen: guitar
– 4.10. Houston
Highschool- workshop within the frame of namless sound
Concert in duo with David Dove:
trombone, amplified trombone with effects, subwoofers
– 6.10., San Francisco
house concert at Tom's place, together with Magda Mayas and Tony Buck as guests of the group "Grosse Abfahrt" in San Francisco:
http://4-33.com/tuesday/about.html
August
19.8. book release:
echtzeitmusik berlin
selbstbestimmung einer szene/
self defining a scene
Wolke Verlag
3.-5.8.
Workshop Dada-is-was für Kinder und Jugendliche
in der Denkmalschmiede Höfgen, Katzenhaus Kaditzsch
July
31. concert, Miss Hecker , Berlin
improvisations with
Anthea Caddy– cello+ Annette Krebs- prep.g., obj, sp.
Liz Albee– trompet+ Olaf Hochherz– electronics
Quartett
5./6. Festival personal and collective,
in KUD Mreža, Ljubljana, Slovenia
5: Concert for 6 speakers
6: Improvisations
Mai
telefon:
Working perioud with Steffi Weismann on
pieces for Lapstrap and lousspeakers
CD- release: Peashot
Duo with Sven-Åke Johansson, Olof Bright,
Sweden
19.5. Johnny Chang plays "51.22,12.77,01"
iin Berlin, Quiet Cue #056
Avril
Cité Internationale des Arts, Paris
9./10.4. Massages Sonores
14-20h
invité et inspiré par Thierry Madiot
en cadre du week-end Waouh,
Le Manège du Reims , Reims
March
11.3. : Concert improvisation en Duo avec Bertrand Gauguet en
Espace Jemmapes -Salle Noire : 116, Quai de Jemmapes 75010 PARIS
20.30h
9.3. : Showing of 3 videos in
Instants Chavirés,
7, rue Richard- Lenoir, 93100 Montreuil- France
Double- event avec le projet "quelques minutes de soleil après minuit…"
ouverture des portes à 20.30h
1.3. : Concert for 6 loudspeakers
20.30, Cité Internationale des Arts, Paris,
Auditorium
February
3.2., 19h Eröffnung , Kunst im Bau – Kunstherberge Birkenau
u.a. mit "Gleichgewichtsstörung"
(Annegret Bleisteiner, Video; A.K, Ton)
3.2.-17.2., München
2.2. post- residency- showing , Telefon, 19h
Q-O2, Bruxells
January
27.1.:Johnny Chang plays "51.22,12.77,01"
and pieces of Micheal Pisarro, a.o.
within the frame of Loop- Line in Tokyo
25.1.- 3.2. Residency in Duo with Steffi Weismann (Telefon)
In Q-O2 in Bruxells;
developement of a new piece for 5 loudspeakers, performer and LapStrap
2010
November
development of a new piece for multiple speakers and pieces for headphones
Hallway- installation during one evening in collaboration with
Hakeem B and Rikus Ferreira (visual arts) in Cité des Arts,
first floor, processing "neblig" and "Gleichgewichtsstörung"
October 2010 until March 2011
Cité Internationale des Arts , Paris
Kulturaustauschstipendium Komposition
des Berliner Senats
October
29.10. LISTEN 04
Eglise St. Merry
76 rue de la Verrerie
75004 Paris
Multispeaker-Solo : Szene1-3, Untitled VI
Double concert avec Carol Robinson
20.30h
September
23.09. S P E A K E R S – stimmen & lautsprecher
Untitled VIII, for 3 performers and 3,5 speakers
Maulwerker , Berlin
Echtzeitmusiktage 2010 , Berlin:
-17.09. Phosphor /Hammeriver
-30.09. final concert
Multispeaker-Solo: "Szene1-3, Untitled VI"
June
Set to music of video by Annegret Bleisteiner
30.6. laborsonor; KuLe, Berlin, 20.30
"Gleichgewichtsstörung"
(Annegret Bleisteiner, video; A.K,sound)
Duo with Johnny Chang
Mai
CD release: "Falter"
Duo recording with Ernst Karel, Cathnor Recordings, UK
17.5.Concert: improvisation, Quartett with Michel Vorfeld,
Chris Heenan and Christoph Schiller
Quiet Cue #018
Flughafenstrasse 38, Berlin-Neukölln @ staalplaat record store
16.5. release: cd- book + artist talk
Q-O2 Werkplaats, Brussels
16.5. / 23.5. "fremdkörper"
für Ohrenhoch
(loop, 22min)
fremdkörper verwendet u.a. akustisches Material aus :
Sexhat keineKalorien (2009)
neblig (2009)
Kobe / Kaditzsch (von A. K./ Taku Unami, 2009
Taku Unami: Türen, Fenster, Banjo, Stimme)
Die integrierten Fieldrecordings wurden in einer Patchinko Spielhalle in Tokyo, einem Veranstaltungsort in Sachsen, dem Guggenheim House in Kobe und meinem Garten in Berlin aufgenommen.
Sonntag, 14-21h durchgängig
Ohrenhoch, Weichselstr. 49, Berlin-Neukölln
12.5.solo concert for 4 speakers:
"Szene 1-3, Untitled VI"
Ny Musikk Bergen & Utmark
Landmark, Bergen Kunsthall
Norway
1.5.
Miniature I for tuba duo and tape
Miniature I for clarinet duo and tape
MIniature I for accordion duo- 3 fragments
Miniature I for violin duo and tape
comission for the Little William Theater| Festival of New Music
8.- 11.2010, Los Angeles

Avril
21.- 22.4. concerts as guest musician/ composer of "Les Femmes Savantes"
dBâle electronic music festival basel/ frau musica electronica
Gare du Nord, Basel
a.o.:
"Untitled VII" for 2 performers and 3 loudspeakers
3.4. soundmassagen as guest of Kammerensemble Neue Musik Berlin within the frame of KNM New Music Spa- The book of Wellness in Radialsystem V, Berlin
2.4. four speaker solo:Szene 1-3, Untitled VI and
duo concert with Taku Unami in Worm, Rotterdam
1.4.duo concert with Taku Unami in Beursschouwburg,
organized by Q-O2, Bruxells
release of: Motubachii
Duo CD with Taku Unami, Erstwhile Records

March
19.3. Johnny Chang plays "51.22,12.77,01"
process festival , Ausland, Berlin
21.3. "szene1-3", Festival Jazz en Nord ,
Marcq en Baroeul, France
25.3. "szene1-3", Untitled VI , Q-O2 , Bruxells
26.3. "in between", 0.05h, Deutschlandradio Kultur,
Klangkunst, Newcomer Werkstatt 1/ 2010
29.3. Johnny Chang plays "schhhh" (UA) within the frame of "Microscore Project" in Kule, Berlin
2009
December
Beginning to develop a new multispeaker solo piece, "Untitled VI"
November
Mastering the recording of a concert in duo with Sven-Åke Johannson,
performed in Ausland/ Berlin in avril 2009
6.11. The Bermuda Triangle Festival of Berlin Improv
with David Dove , Anthea Caddy, Magda Mayas, Chris Abrahams, Chris Heenan
in staalplaat working space, Berlin
October
27.10. The Bermuda Triangle Festival of Berlin Improv
with Rhodri Davies, Christopher Williams, Jeremy Drake, Chris Heenan
staalplaat working space , Berlin
Flughafenstrasse 38 U8 Boddinstrasse
start 20.45 , end at 22.00
8.10. art-space lokaal 01, Breda, Netherlands
solo concert for 4 loudspeakers: "Szene 1-3", "sexhat keinekalorien"
Lokaal 01
Kloosterlaan 138
4811EE Breda
Nederland
September
26.9 :Concert in the framework of Zwielicht , A trans Pavilion , Hackesche Höfe III, Berlin
solo concert for 4 loudspeakers, placed in the patio
Was Hören Wir -Internationales Musikfestival 10.-13.9.2009
12.09. | 20:00 Uhr | Grimma– Die musikalisierte Stadt
– street real-time performance for 4 loudspeakers
– "sexhat keinekalorien" stereo- Loop für einen Innenhof in Grimma
13.09. | 15.00 Uhr | Rouge– Licht-Klang-Zyklus/Hörspaziergang
– "Szene 1-3" für 4 Lautsprecher in der Scheune der Familie Schuricht
Denkmalschmiede Höfgen gGmbH
Teichstraße 11-12
04668 Grimma-Kaditzsch
20.09. art-space lokaal 01, Breda, Netherlands
opening of the installation "neblig" , a looped composition for 2 loudspeakers
placed in a little glass-room on both sides in front of a sofa
(running 20.09.- 31. 10.09)
finishing of "Kobe-Kaditzsch"
for the earstwhile realease with Taku Unami in 2010
Composer-in Residence in Denkmalschmiede Höfgen
August
24.8. Ostrava Days 2009 Festival with Phosphor
Develpoment of a piece for several loudspeakers, mixing board, instrument, objects and tape
Composition and mixing works for the upcoming realease with Taku Unami
Composer-in Residence in Denkmalschmiede Höfgen
July
Composer-in Residence in Q-O2 Werkplaats , Bruxells
in between for 2 loudspeakers
Documentation of of the piece XXX9(A.K.sound, Steffi Weismann,USB microscope)
Release of Phosphor II (Septett, Berlin) , Potlatch, Paris
June
Japan tour
Recordings with Taku Unami for Erstwhile Records realease in 2010
Concerts in Tokyo, Kyoto and Kobe
Kid Ailack Art Hall 3 days
10 June duo with Taku Sugimoto
11 June trio with , Otomo Yoshihide ,Taku Unami
12 June duo with Sachico M
_ _ _ _ _ _ _ _
2009/6/13/(Sat.) Duo withTaku Unami
at Yugue (Kyoto)
_ _ _ _ _ _ _ _ _ _ _ _ _ _ _ _ _ _ _ _ _
2009/6/14(Sun) Duo withTaku Unami
guest / Masafumi Ezaki
at Guggenheim House (Kobe)
http://www.geocities.jp/shioyag/
Mai
Release of Kravis Rhonn Project , AnotherTimbre, UK
(Beginning of the documentation)