" Small sounds creep out in her music, meandering and hiding like specks of dust here and there in the room. But they shimmer and are actually like traces of Someone. Like flakes of skin, strands of hair. They move only slightly, but are there, creating refractions of light and barely discernible shadows. The voices that come in are both funny, touching and an unexpected extension of the small tussocky traces here and there that create the very structure, the easily recognizable.
Between these extremes, which are in fact echoes of the same thing, a Someone, a Here Comes Everybody – to quote Joyce.
This Someone may very well be Krebs, but when in one of the versions she opens the windows and plays passing sounds outside the studio, I suddenly find myself in the same room as her. Right next door. Clearly in the interior of two rooms, because outside, life rushes by in an unidentifiable stream. Cracks, noise and the acoustic and electronic blurring of insignificant deposits have never been clearer than here.
A place to be, where Someone and I continuously switch identities in the same room.
This is how Krebs creates an inner conversation where you and I, me and her, cannot be separated. It is about becoming oneself, discovering oneself in the reflection of the other, in the speech.
It sounds solemn and far from musical practice. But it is between the acoustic deposits of the floorboard and the brief incomprehensible moments of the suddenly enlarged voice that her music unfolds. And opens the windows to create the dizzying experience of two parallel rooms.
Annette Krebs' new piece is, in its undeniability, a highlight of contemporary music. She knows all the possibilities of her instrument, and now she moves on a level that few others do. And she is constantly challenging herself in a way that I hardly know any improviser to be capable of. If the wretched and worn-out concept of experiment fits anywhere, it is here, because it questions and re-evaluates Krebs' own practice at the highest level. Experimental can only be that which dares to be totally unfaithful to itself – even to better knowledge. Better knowledge – isn't that what ultimately steers both improvisation and experimentation away from the necessary faithlessness?"
Original text in Swedish about rush!  by Thomas Millroth, SoundOfMusic, SE, 2014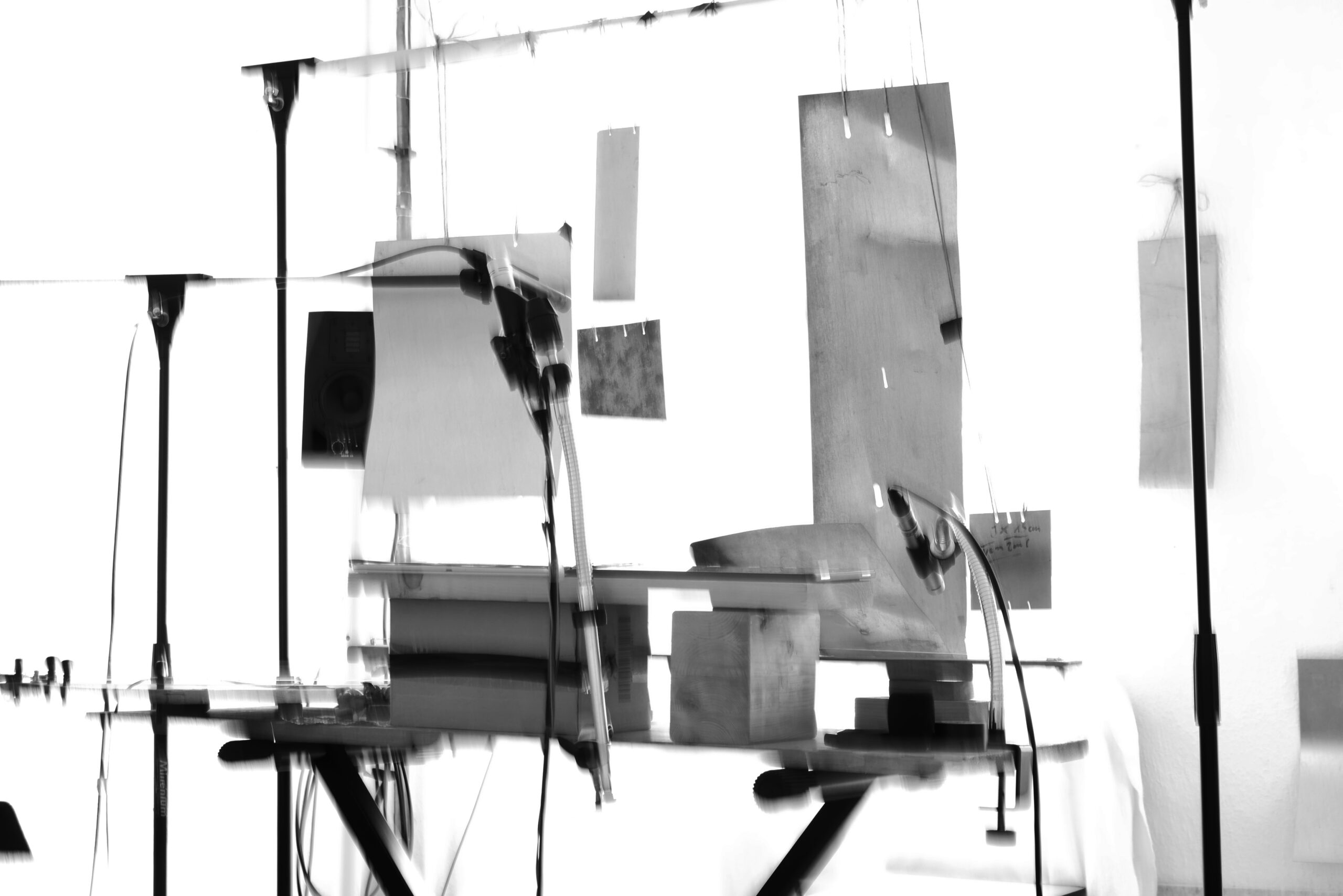 About the series Konstruktion#
Since 2013 Annette Krebs has been developing and performing electro-acoustic assemblages made of highly amplified metals, strings, objects and microphones. They were developed out of the need to create sound visions that could not be played with traditional instruments and setups. As if through a microscope, microphones make audible the finest, otherwise inaudible sound shadings and colorations of the sound objects. The Konstruktion series combines analog and digital techniques and ways of playing. The signals of the manually played sound objects are controlled via tablets, transformed and musically collaged similar to different colors that flow into each other, mix or remain next to each other.
Short biography
Annette Krebs was born in Saarland and has lived in Berlin since 1993. Since her childhood she plays numerous instruments and is engaged in visual arts. She completed her music studies at the HfMDK in Frankfurt am Main. Before she started with the development of the series Konstruktion, she deconstructed musically bit by bit her original instrument guitar. With her first solo CD "guitar solo" ("Fringes Recordings", IT) she was portrayed in the magazine "The Wire- adventures in modern music" (UK) in 2002. Her latest guitar composition "rush", an acoustic collage that reduces the sounds of the guitar to a final scraping and crackling, was released in 2014 on the label "Another Timbre – The Berlin Series no.2″(UK).
She performs as a soloist and within various line-ups at concerts and festivals worldwide (including "100 Jahre Bauhaus-Das Eröffnungsfestival"; "Donaueschinger Musiktage"; "Heroines Of Sound Festival" ; "Kontakte – Biennale für Elektroakustische Musik und Klangkunst").
Her music has been supported by numerous grants (e.g. "Senatsverwaltung für Kultur und Europa", Berlin; "Goethe-Institut"; "Cité Internationale des Arts Paris"; "Akademie der Künste", Berlin; "EMS Elektronmusik Studion", Stockholm) and presented on radio and in the press (e.g. "Positionen-Texte zur aktuellen Musik", "Deutschlandradio Kultur", "WDR-3", "BR Klassik").